Advanced Installer at Microsoft Ignite 2015
Once again, the Advanced Installer Team will participate at Microsoft Ignite (ex-TechEd). Visit us at booth #331 and you'll be able to speak directly to the engineers that are building Advanced Installer. Besides the free lessons you can also get our free Advanced Installer swags.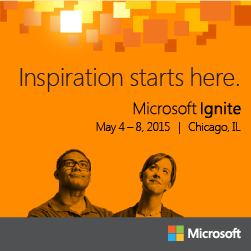 Since 2013 Microsoft Ignite (back then called "TechEd") was on our CAN'T MISS list. We have a lot of new stuff to teach you and also a brand new solution to present. This will help you better understand how your users install, upgrade and uninstall your applications: Installer Analytics.
As a Microsoft Ignite attendee you also get the chance to take certification exams at special rates and learn directly from the industry experts. Windows 10 is almost ready for release, at Ignite you can find out what's new in it and how you and your company can benefit from using the latest Microsoft OS.

If you liked this article check out our blog, you can read more and subscribe.
Subscribe to Our Newsletter
Sign up for free and be the first to receive the latest news, videos, exclusive How-Tos, and guides from Advanced Installer.