MSIX Packaging Fundamentals - The book of the moment in the packaging industry
In 2018, Microsoft delivered a breakthrough packaging technology to enable a flawless application packaging process, including enhanced features to help IT Pros and Developers carry out updates and customizations in a more reliable way.
Grab your copy of MSIX Packaging Fundamentals now.
When a new technology gets introduced to any industry it requires a transition process, time for adoption, and lots of documentation and training in order to be used correctly. This is also the case with MSIX.
Although many see MSIX as a replacement for previous technologies such as MSI, it is not -- MSIX is a completely new and innovative technology in itself.
Packaging experts Tim Mangan, Bogdan Mitrache and Kevin Kaminski, developed a comprehensive guide about the MSIX technology that includes essential information to help enterprises properly prepare and deliver Windows applications: MSIX Packaging Fundamentals.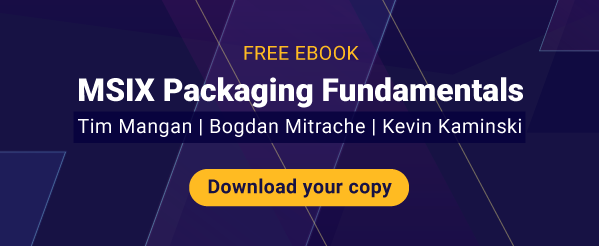 The information presented in this book is fundamentally intended as an introduction to the practices of application packaging. Still, even the most experienced IT Pros will find exceptional value in the content helping them evaluate various packaging techniques -- different from the ones that they are used to -- and understand how these techniques fit into the larger picture.
"As someone responsible for application packaging, you will probably need to use a variety of these techniques over time. Your organization will likely have selected a small subset of all of the available first and third-party tools to help make packaging activities consistent and reliable. The MSIX Packaging Fundamentals book will provide you the knowledge that you need to succeed no matter what techniques or tools are used."
MSIX Packaging Fundamentals - Introduction to Modern Applications
Subscribe to Our Newsletter
Sign up for free and be the first to receive the latest news, videos, exclusive How-Tos, and guides from Advanced Installer.