Visual Studio Extension updates
Starting this summer we are a VSIP premier member, working together with Microsoft's team to deliver you our best Visual Studio extension.
In Advanced Installer 12.2 we announced our full support for Visual Studio 2015, but we did not stopped there. Over the next versions we continuously improved it following your feedback.
We've made major improvements in the way you add/remove resources, so it will take you just a few seconds to configure your package contents.
Talking about seconds, we've made great performance improvements too, speeding up load time for projects in Visual Studio and the central build procedure from Advanced Installer, so it can leverage your multi-core machines.
A very beautiful and big improvement we made is that of automatically loading a UI color scheme corresponding with that of your IDE: light, blue and dark. Below there is a screenshot with our favorite: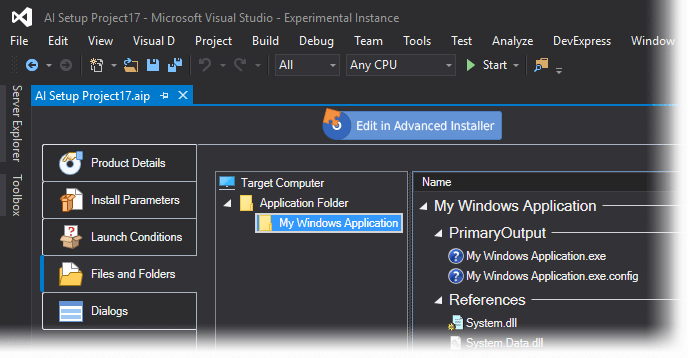 We thank you all for the valuable feedback you've sent, it is very important for us. Also, don't forget to share your feedback, on our extension page from the VS gallery, with the entire community.
Subscribe to Our Newsletter
Sign up for free and be the first to receive the latest news, videos, exclusive How-Tos, and guides from Advanced Installer.