Webinar: Live Q&A with the author - MSI Packaging ebook
Live Q&A Webinar with MSI Packaging author - Your chance to get all of your MSI questions answered

On December 15th, Alex Marin will host a live Q&A webinar to address any questions you may have regarding MSI Packaging.
Submit all your MSI packaging questions here to have priority in Alex's answers!
When: Wednesday, December 15th | 4pm CET/10am EST
Duration: 1 hour
Hosts: Alex Marin - IT Pro, Packaging Lead
Attendance: Free access | Invite your friends | Essential for IT Pros
Alex has gained a great deal of knowledge about packing and is eager to share what he has learnt with you during this Live Q&A webinar.
Can't make it to the live session? No worries. Register to the webinar, submit your questions and we will send you the link with the recorded session right in your inbox. Submit your questions
MSI Packaging Training book
Alex Marin is an IT professional, packaging leader, and the author of the MSI Packaging Training ebook. He has years of experience working in packaging for some of the world's most well-known companies and organizations and he shares all his knowledge in this ebook.
MSI Packaging Training book - a must-have book for everyone in the app packaging industry. Now is the time to get your free copy.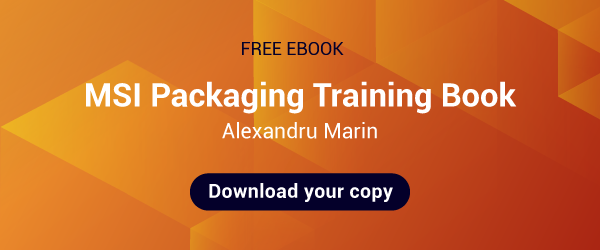 Advanced Installer is so proud of Alex Marin's latest work - The MSI Packaging Training ebook - this book comes with all the revolutionary technical insights to start your packaging career. Our first ebook after the COVID-19 pandemic.
Advanced Installer is a Windows Installer authoring tool based on friendly and easy-to-use GUI (Graphical User Interface) for creating and updating and repackaging installation packages (MISX, EXE, MSI, App-V) based on the Windows Installer technology.
You can show us your support by commenting on any questions or suggestions in the comment section down below!
Subscribe to Our Newsletter
Sign up for free and be the first to receive the latest news, videos, exclusive How-Tos, and guides from Advanced Installer.