Replacing Wise Install Studio
Wise Install Studio has not been supported for some years, so if you are still using it you are missing out on a lot of new enhancements brought by Windows 10, and possibly a lot of potential clients, at the same time.
Get your installers up to date with the latest Windows 10 features like Visual Studio 2017 integration, Tiles, Desktop Bridge support, and much more. This is why you need to upgrade your current projects to the latest packaging standards with Advanced Installer.
One-click migration
Advanced Installer offers the option of importing your Wise Install Studio project. Migrating your work is as easy and seamless as possible.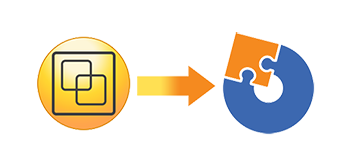 MSI in Wise and Advanced Installer
1. The Dialog Editor helps you create a unique first-time user experience for your customers. You can easily customize your dialogs with controls, conditions, images, localization, custom actions and so much more.

2. Creating or editing custom actions is so much easier with Advanced Installer's intuitive GUI. Each action can be easily created and customized.
Unique features to Advanced Installer
Keeping your application up-to-date is a few clicks away with our built-in Updater, which checks and installs any updates you release for your application.
Analytics have become essential for companies to make calculated decisions about their products. Advanced Installer offers Installer Analytics as a way to track important KPIs, for your software, with a single click.
Many more features can be found on our features page.
Features for IT professionals
Virtualization is becoming increasingly popular in companies because they give fast and easy deployment. We offer the option of creating virtual packages for both Microsoft's App-V and VMware's ThinApp technology.
MSI Editor lets you to quickly modify your MSI, so that you can make required changes as easy and fast as possible.
Repackager is one of the most important features in Advanced Installer because it can help you turn legacy installation packages, and convert them into industry standard MSI packages. Once your installation has been captured, it is turned into an Advanced Installer project, from here you can do your changes, or even create a virtualized package.
User testimonials
"With Advanced Installer, packaging and deploying SourceTree is now just a simple part of our development process. We can focus our efforts on building new features in SourceTree and improving existing ones so that SourceTree becomes the best Windows interface to Git source repositories."


Steve Streeting, Lead developer of SourceTree at Atlassian

See what others say about Advanced Installer in our testimonials section.