Start Page
In the "Start Page" you can open a recently accessed project or create a new one. You can select the type of project you want to create, choosing from these types of projects: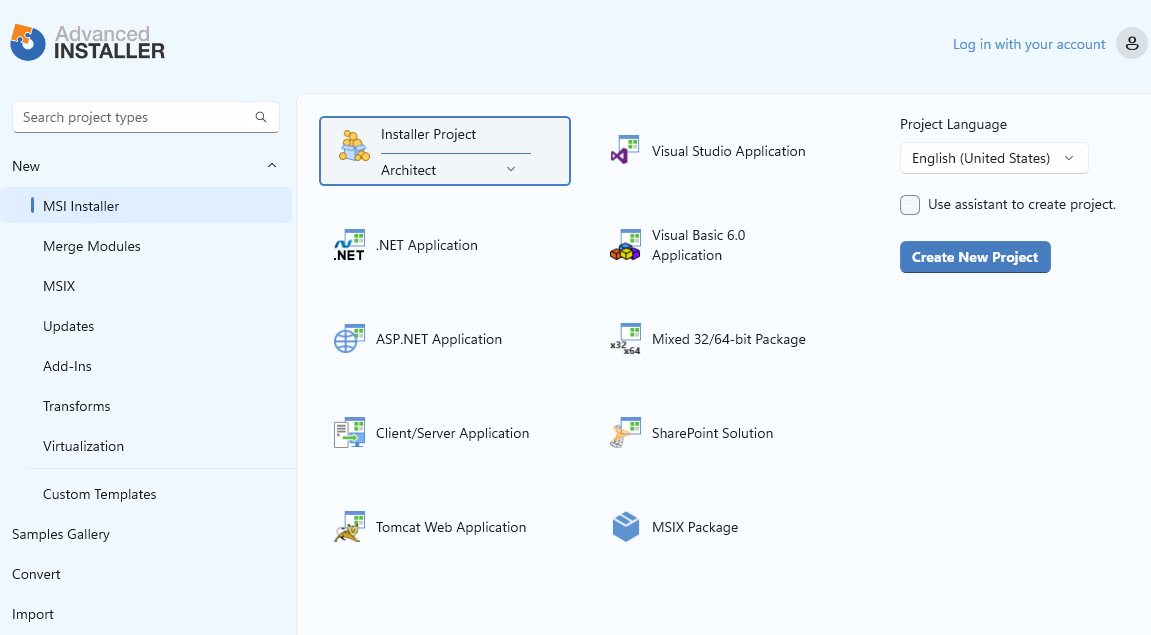 Actions
If you need help use the F1 keyboard shortcut.
Creating a new project
Select a project type and press [ Create Project ] or double click on a project type.
Opening a recent or existing project
Select "Open" menu entry and choose a recent project or press [ Open Project ].
Enabling "Automatically load most recent project" option will skip the Start Page next you launch Advanced Installer.
Canceling the project creation
If a project is already open, simply press the [ Back to project ] button.
Message Center
The Message Center keeps you up-to-date with the latest news from Advanced Installer.
Options
Use wizard to create the project
Enable this option if you want to create the project using a wizard. More information about wizards and a list of them can be found in our Wizards page.
Not all project templates support disabling this option.
Language
Here you can select the language in which the project will be created. Additional build languages can be specified later in the Languages Tab tab, on the Translation page. By default the drop-down list contains only the languages for which translation dictionaries are registered in Advanced Installer. Additional dictionaries can also be added from the this page.
To select a language which doesn't have a translation dictionary, use the "More..." option from the drop-down list to bring up the Select Language Dialog.
Topics